Abstract:


Today's supply chain leaders are in a multi-front battle to improve speed, agility and cost-competitiveness for their companies.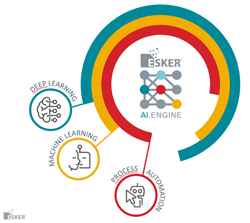 Fortunately, digital transformation is making it a winning battle — equipping professionals like you with the tools and technology to successfully navigate modern supply chain challenges.


Join us for an educational webinar that breaks down what digital transformation is and how automated order management solutions equate to supply chain benefits such as:

• Accelerated processing speeds & reduced error rates
• Enhanced visibility & tracking into orders & KPIs
• Reduced operational costs, including less overtime pay
• Improved customer experience & higher profits
Featuring SCDigest's editor Dan Gilmore and Esker's Dan Reeve.


If your supply chain is ready for a digital transformation, consider the proven benefits of order processing automation — register today!